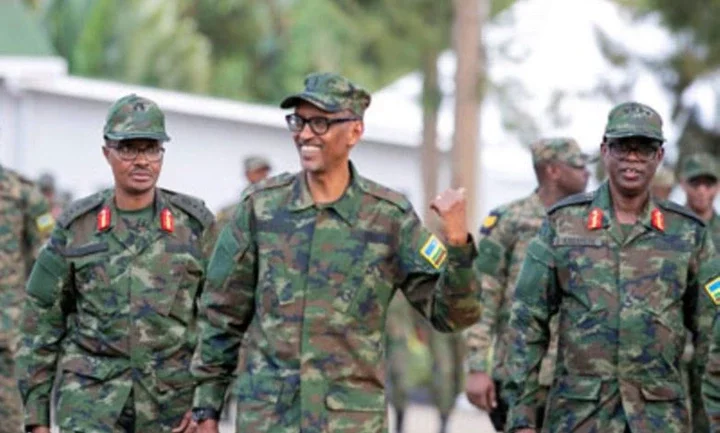 Rwanda president, Paul Kagame, who doubles as the Commander-in-Chief of Rwanda Defence Force (RDF), has approved the retirement of 95 military generals and senior officers as well as 930 junior soldiers.
Top on the list of retirees is General James Kabarebe, the country's former Minister of Defence and Chief of Defense Staff.
Those affected were disclosed in a statement published on the Rwanda Defense Force's official website on Wednesday.
The announcement came amid recent military coups in Niger Republic and Gabon.
Until his retirement, General Kabarebe served as the special advisor to the president on security.
Local media reports that some of those retired had attained the retirement age of 65 while others were indicted for misconduct.
"The president has also approved the retirement of 83 senior officers, 06 junior officers and 86 senior NCOS, 678 end of contract and 160 medical discharges," the statement partly read.
Prior to their retirement, President Kagame promoted a number of lieutenant colonels to the rank of colonels and brigade commanders.
Although the statement did not categorically state the reasons behind the retirement of the military officers, the president had in previous weeks addressed opinion leaders on the need to keep the country united.
His words: "Our history has been an example of how destructive division can be. We have also seen that it is our unity that has led to our country's transformation. We have people who lost their family members, others who have family members who are perpetrators, everyone has suffered the consequences of division."